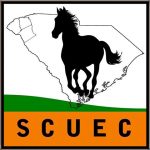 NEWS & NOTES
Please browse through and enjoy. Also, don't forget to visit our Facebook page for even more updates on recent events.
10:16:2018 New study looks to understand impact of equine economy in South Carolina
A horse is a horse of course, but horses are also an economic force. A recent American Horse Council study finds that the U.S. equine industry is responsible for about $122 billion in economic impact and 1.74 million jobs on a full-time basis, that generate $79 billion in total salaries, wages, and benefits. How much of that is felt in South Carolina?
That's the question University of South Carolina researchers will answer in a new study funded by the SC Department of Agriculture that will show how each segment of the equine industry contributes to the economy, as well as to the rich cultural fabric of South Carolina. The data will be used to inform future policy and business discussions.
The last statewide study of South Carolina's equine sector was conducted 14 years ago, so the new study will play an important role in showing how much the industry has grown and how much it means to the state in 2018. In Florida, for example, the equine economic impact has risen by 33% in the last decade.
Simon Hudson, endowed chair and director of the Richardson Family SmartState Center of Economic Excellence in Tourism and Economic Development, will lead the new project. "The equine industry is a dynamic blend of tourism, entertainment and cultural heritage that plays a critical role in South Carolina's identity and economy, so we are excited to have a strong team of specialized experts working together on this project," Hudson says. To hear more, read the USC Today story.
If you are involved in the equine sector, the team would love to hear from you. Their online survey will only take 5-10 minutes to complete, participation is completely voluntary, and your answers will be anonymous.
Please click on the following link for the survey: https://bit.ly/2NCJKSh
If you have any questions or would like additional information about this study, feel free to contact Dr. Simon Hudson (shudson@hrsm.sc.edu)
University of South Carolina, Columbia, 29208
6.25.2018  It is that time of year again! A case of rabies was recently reported in a Bobcat in Bowersville, Georgia. Among wild animals, the disease is most often reported in skunks and raccoons but is also found in bats and foxes. Rabies is usually transmitted from the saliva of an infected animal via a bite wound.
Infected horses may show common signs, including depression, lack of coordination and aggressive behavior, or display more obscure signs such as lameness or colic. 
Every case of rabies presents a death sentence to an infected horse, and a risk of infection for other horses. Because the signs of rabies can vary so widely and the disease is so serious, some experts recommend that horse owners think of rabies first whenever they see unexplained clinical signs in horses.
Remember: Disease prevention through vaccination and good management is the best preventive measure for the horse, owner and equine veterinarian. 
6.9.2018 Latest Update on the ELD mandate and effects on horse owners: www.horsecouncil.org/press-release/bill-introduced-in-senate-in-response-to-eld-mandate/
6.9.2018 Clemson Master Equine Certification Seminar  www.eventbrite.com/e/clemson-master-equine-managers-certification-summer-2018-tickets-46325691390
4.9.2018 Horse Pasture Management pdf – Workshop & Field Day. Clemson Extension Service. April 20, 2018.
3.4.2018 There have been several changes in the Equine Vet population and coverage area in that last few months in Upstate SC. Here is a list of those practicing in the area. It may not be complete so if you are, or know of a vet to add to this list, please let us know.
Here is a link to a PDF for you to download  EquineVets in Upstate SC 2018