SCUEC'S VISION: To build upon our existing world class equestrian facilities, promote nature-based programs, and provide equine education.
We are working to become a magnet in the Upstate for all equine activities, and to provide a positive impact improving the quality of life . . . for children and adults!
Beginning in late 2009, a group of citizens with the equestrian interests along with representatives of local governments, Clemson University, other educational institutions, and the Vision Plan leaders from Anderson, Pickens, & Oconee counties, came together to explore a collaboration to increase the importance of the equine presence in this region.
The three counties, with more than 11,000 horses, and an annual economic impact over $63 million, saw the need to expand and improve the facilities at Clemson's T. Ed Garrison Arena, and some of the adjoining property making Clemson and its surrounding area a premier destination for equine sports competitions and other activities, and create a venue for cross-country and other multi-day competitions.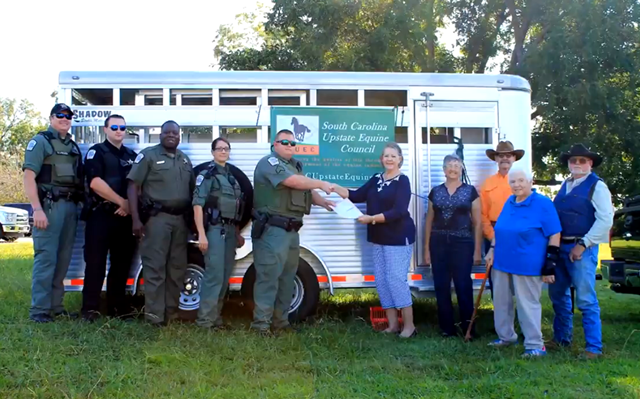 SCUEC IS CONTRIBUTING MANY WORKING HOURS FOR SUCCESSFUL PROGRAMS. 
*** Our Completed Accomplishments ***
Coordination of new map for Fant's Grove Trails
Lighting for the outdoor warm-up ring at the T. Ed Garrison Arena
Economic Impact Study of Equine Economy on the Oconee-Anderson-Pickens Counties
Waterline to trailhead –maintained by SCUEC
Porta-let at trailhead – maintained by SCUEC
Hitching rail and pavement at trailhead
Ground asphalt at the Butch Kennedy Trail-head
Designation of 911 numbers for trail heads
Color coded trail marking for safe trail usage
Sound System Improvements to the T. Ed. Garrison Arena
Upgrading of jumps at the T. Ed Garrison Arena
Improvement of parking areas at CU Experimental Forest South Trail-heads
Donation of stock trailer to the Anderson County Animal Control Department to aide in rescue of large animals
*** Our Current and Ongoing Projects***
Support of Youth Equine Programs
Support the development of trails in Anderson, Pickens and Oconee Counties
Coordinated kiosks at trail-heads to assist all trail users
Support the development of a new highway kiosk  for T. Ed Garrison Arena
Support of large animal rescue organizations when the need arises
 *** Our Future Projects ***
Hunter/Jumper Arena at the T. Ed Garrison Arena
Additional Outdoor Show Arenas at the T. Ed Garrison Arena
Additional Outdoor Warm-up Arenas at the T. Ed Garrison Arena
Cross-country field and jumps
Steeplechase field
SCUEC SUPPORTS THESE WORTHWHILE ENDEAVORS
REGION 12 ARABIAN ASSOCIATION YOUTH JAMBOREE
In 2017, The Region 12 Arabian Association Youth Jamboree celebrated its 29th year of support for youth education in equine interests. The Jamboree started as an endeavor to support Arabian youth owners in education and interest in the equine fields but over the years it has developed into something much larger. Now any horse breed, and youth horse owner is invited to participate in the week long "camp". SCUEC has been a supporter for this worthy cause since our inception.
SOUTH CAROLINA 4-H HORSE PROGRAM 
The SC 4-H Program has over 1000 youth participants. They have competed in South East Regional and Eastern National Championships. These competitions have helped our SC youth win prize monies and scholarships, along with developing leadership skills that will serve them throughout their adult lives. SCUEC is proud to support these youth and this Clemson Extension Program.
TRI-COUNTY TECHNICAL COLLEGE VET TECH EVENING STUDENT SCHOLARSHIP  
TCTC offers a Vet Tech program that is recognized throughout the US. They even offer a part-time evening student program. Unfortunately, scholarships for part-time students are not available, yet they are hardworking (usually balancing a family, job, and their education), and deserving of some financial assistance too. Education in the equine industry is paramount to SCUEC, so in 2011 SCUEC started a scholarship specifically for those part-time students. This cooperation has proven to be beneficial to all involved.
The T. Ed Garrison Arena at Clemson University is the only full service, public, multi-purpose livestock facilities in South Carolina. The Arena was designed to promote the state's billion-dollar livestock industry qand is operated by the Cooperative Extension Service in the division of Public Service and Agriculture. The events held at the arena draw thousands of visitors to Clemson and South Carolina, boost tourism and contribute to economic development not only in the upstate, but also throughout the entire state of South Carolina. SCUEC recognizes the impact this facility currently has, and believes in its ability to grow creating an even more impressive impact to the state of South Carolina. The T. Ed Garrison Arena is solely supported by revenue generated by the Arena.
CLEMSON UNIVERSITY EXPERIMENTAL FOREST SOUTH
The Clemson Experimental Forest is managed for a maintained yield of forest products including timber, clean water and air, and wildlife. Its prime directive is to be a well-managed, self-sustaining, ecologically healthy, living laboratory, classroom and recreational resource for the benefit of the university, commerce and citizenry of South Carolina, The forest was divided into three separate forests: the commercial forest, the multiple-use forest, and the protection forest. MARP's purpose is to measure the biological, economic, and social responses to the effects of forest cultural practices and to interpret those responses on the environment and society.
The Clemson Experimental Forest trail system is divided into three areas: Todd's Creek, Issaquena, and Fant's Grove. The trails are used for teaching, research and public recreation. Public recreation use of the trails includes bird watching, mountain biking, hiking and horseback riding. Fishing and hunting are also allowed in the forest and are regulated by South Carolina Department of Natural Resources. The Clemson Experimental Forest personnel, equipment, supplies, roads, recreation facilities and maintenance are solely supported by revenue generated by the Forest.
FUTURE FARMERS of AMERICA   WE BELIEVE IN THE FUTURE OF AGRICULTURE.
FFA is an intracurricular student organization for those interested in agriculture and leadership. It is one of the three components of agricultural education.
FFA makes a positive difference in the lives of students by developing their potential for premier leadership, personal growth and career success through agricultural education.
Students whose lives are impacted by FFA and agricultural education will achieve academic and personal growth, strengthen American agriculture and provide leadership to build healthy local communities, a strong nation and a sustainable world.
FFA programs are funded through sponsorships and individual donations at the local, state and national levels. National dues for each member are $7 per year.