Show date – April 6&7, 2019
T. Ed Garrison Arena 1101 W. Queen St. Pendleton, SC
**Reminder: Pre-enter your classes and get a chance to win a free stall for the weekend!
2 full days packed with classes to suit nearly every riding discipline. Western Pleasure, Ranch Horse, H/J Divisions, Dressage, Combined Training (including western and gaited offerings), Gaited classes. We also will have Vendors & a Silent Auction Table.
**Update: This year we are offering 2 PAYBACK classes – Gambler's Choice and Hunter Derby!
*Closing date for pre-entries, Dressage, and Combined Training tests is April 2, 2019!!!!
We send out regular email updates but due to anti spam measures, many do not get our messages. We also post updates on our Facebook Page. Please send a Friend Request to our page and you should see our updates.
2019 Prize List
Full prize list and entry form can be downloaded by clicking on the PDF link below.
Be sure to have the latest Adobe Acrobat Reader to view PDF properly
Advertise your business to hundreds of horse enthusiasts
 We have great prices on vendor spaces and advertising in our colorful full size show program.
or contact: SCUEC3@Gmail.com
Photographer
TBD
To schedule a photo shoot
while at the show.
Email: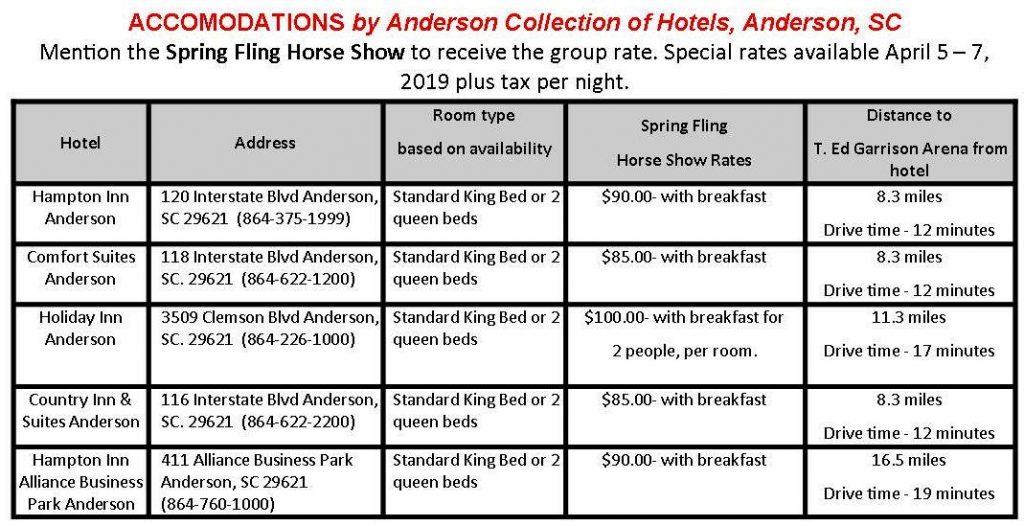 Open Show Judge:
Marsha Henry – Fair Play, SC
Mrs. Henry is a carded judge with the Open Horse Association and also certified by North Carolina State University. She has over 35 years showing, breeding and training experience.
She holds championship titles in the International Buckskin Horse Association and American Paint Horse Association in western pleasure, halter, hunter under saddle, horsemanship, English pleasure and reining.  She is owner of M&K quarter horses in Fair Play, South Carolina and has over 17 years' experience in judging English, western, hunter, jumpers, and reining horses.
Hunter/Jumper Judges:
Indoor Arena:
Missy Roades  –"R" – Beaufort, SC
Ms. Missy Roades has been a top hunter, jumper and equitation rider and trainer for the last 30 years and holds her USEF large R judges card.
She has been judging shows the last 15 years from local up to the AA shows all over the US. She has taken clients to McClay finals and many local finals from the south to the midwest.
She was just recently endorsed by Mr. George Morris to help and ensure that correct horsemanship and the classical riding style he teaches, and that this country was built on, is continued, taught, and learned.   
Annex Ring:
 Emily Gainey -North Augusta, SC
Ms. Gainey is certified with the American Riding Instructors Association and has a 4 yr BS in Equestrian Science from Clemson University. She currently teaches at Hunt-Ho Farm in Augusta
Dressage Judge:
Lynelle

Flowers

– "L" Judge Graduate with Distinction – Asheville, NC
Lynelle moved to western North Carolina from California in 2004. She had been involved in Pony Club, eventing and western riding.
Focusing on Dressage for the past 35 years, she believes Dressage training is for all breeds, ages, and disciplines.
Lynelle graduated from the USDF "L" Judges Program "with distinction" in 2000 and in 1995 was a participant in one of the first USDF Instructors Program in Northern California."