2023 Spring Fling is here!
2023 Spring Fling Horse Show promises to be another 3 Days of fun horse showing. We are always reviewing the previous year and trying to make improvements for the next.
Hope you will be as enthusiastic about the upcoming show as we are.
We are offering a chance to win a free stall for the weekend with your on-line registration
No office fee charge if you pre-register online
Fun Costume Class this year
Friday Jumper classes
"Special Friends" classes
Registered judges
and more
Oh, and almost forgot! Awards>>> High Point, Barn award, and more!
FYI: With all of the sophisticated on-line scamming going on today, just know that SCUEC will never send you an invoice through Venmo, Zelle, PayPal, etc.  We will only send an invoice directly to you, upon your request, either by snail-mail or email.
2023 Spring Fling Horse Show Information!
Click on the links below to open PDFs:
2023 Spring Fling Classlist_Web
Be sure to have the latest Adobe Acrobat Reader to view PDFs properly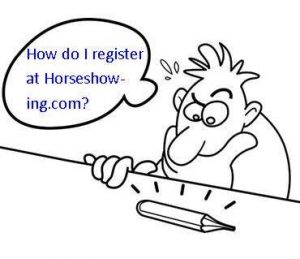 Online results for the 2023 Spring Fling Horse Show can be seen at HorseShowing.com
If you have never used this online entry, watch a short tutorial. HorseShowing.com tutorial  
*Just a quick reminder – if you pre-register online, we will waive the $10 office fee and you will also be eligible to win a free stall for the weekend.
Ready to proceed with your online registration? Click on the link below.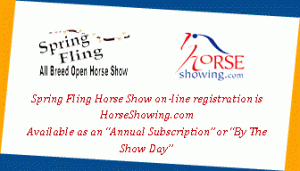 2023 Spring Fling Horse Show Judges
Hunter/Jumper Judge
Danielle Ackley USEF "R", Southern Pines, NC
Bio coming soon
Open Show Judge
Bob Bennett, Jr. USEF "R", Swansea, SC
Bob is a USEF "R" judge with National & Regional designation for the Arabian breed. He is well versed in all breeds and disciplines. He is apprenticing to get his Andalusian & Friesen cards as well. He owns and operates Three Oaks Training Center in Swansea, SC. He has numerous national  and regional championship wins in the Arabian Sporthorse divisions. He has judged for local shows for over two decades.
Dressage Judge
Nancy Pope USEF "r", Ridge Springs, SC 
Dr. Nancy Pope has a PhD in animal science from the University of Illinois.   She earned the USDF "L" judge with honors designation in 1989 and the USEF "r" license in 1996. She has over three decades of dressage judging experience and training, judging dressage, eventing, and Arabian sporthorse classes.  Nancy trained and raised Arabian and half-Arabian dressage horses. She is recently retired from training and breeding but still maintains a small herd.  She and her husband Steve live on a small farm in SC, where they have a large group of rescue barn cats, and are breeding Labrador Retrievers.