2020 Spring Fling Prize List & Entry Form is online now!
Show date – April 4&5, 2020
T. Ed Garrison Arena   1101 W. Queen St. Pendleton, SC
2 full days packed with classes to suit nearly every riding discipline. Western, English, H/J Divisions, Dressage, Combined Training (including western ). We also will have Vendors, a Silent Auction Table and a used tack sale table.
We send out regular email updates but due to anti spam measures, many do not get our messages. We also post updates on our Facebook Page. Please send a Friend Request to our page and you should see our updates.
2020 Prize List 
Full prize list and entry form can be downloaded by clicking on the PDF link below.
Be sure to have the latest Adobe Acrobat Reader to view PDF properly
2020 Entry Form & Liability Release
Photographer
Theresa Colbert of Tatresa Photography
To schedule a photo shoot
while at the show send her an email or visit her booth on the concourse near the show office.
Email:TatresaPhotography@gmail.com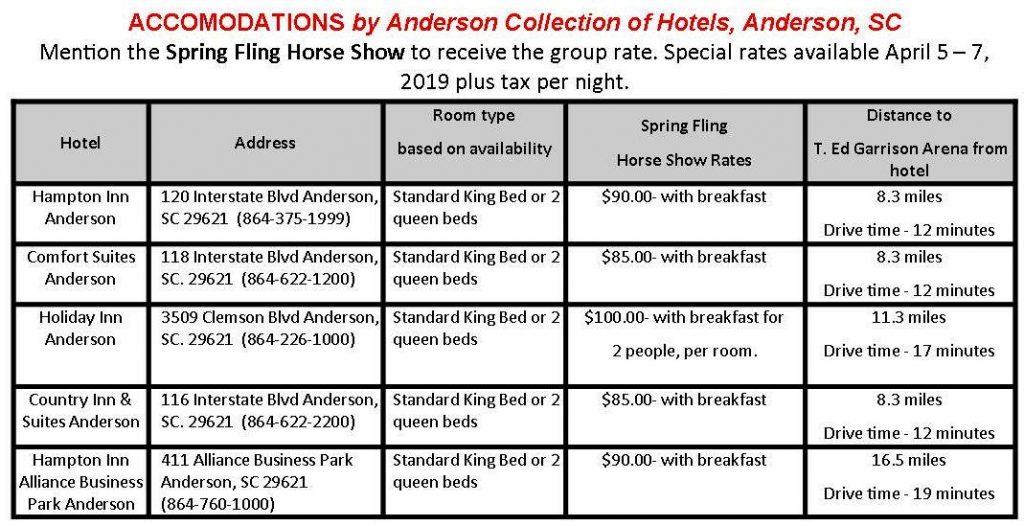 2020 Open Show Judge:
Jeremiah Lucas
Bio coming soon.
2020 Hunter/Jumper Judges:
Mary Weaver
Mary Weaver has been an equine professional for nearly 20 years with extensive experience in USHJA, AQHA, IHSA, and IEA competition. Most recently Ms. Weaver coached Lander University's Equestrian Hunt Seat and Western Teams from 2009-2015 with numerous Regional, Zone, Semi-Final, and National Awards. She began her collegiate equestrian career while competing for The University of South Carolina's Varsity Hunt Seat and Western Equestrian Teams as well as for Berry College where she earned a B.S. in Animal Science. Following graduation she worked as an assistant coach to Middle Tennessee State University's Equestrian Team for several years along with serving as the assistant trainer at a successful farm that specialized in "A" hunters and AQHA all around horses. This lead to managing her own teaching and training business with numerous circuit, regional, and national awards win by her clients and horses. Upon her return to South Carolina she managed a private breeding and training facility and taught at stables around the upstate prior to working with Lander's program. Ms. Weaver resides in Greenwood with her husband, and three young children where she enjoys their family farm and helping educate individuals in the horse industry.
2020 Dressage Judge:
Chris Derr "L"  Judge
 Bio coming soon.